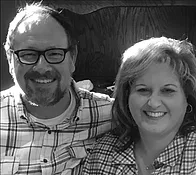 Tim Jacobs was born in South Africa. He grew up in a Christian home and was saved as a teenager. His family immigrated to the US in 1979. Tammy was born in SC and grew up in Greenville. Tim attended Christian schools and graduated from Hampton Park Christian School in 1986. In 1988, he earned an Associates Degree from Greenville Technical College in Automotive Technology. In 1991 he married, Tammy, and they have four sons. Together they own and operate two businesses. Greenville Transmission Clinic is the primary business, and Tim has been rebuilding transmissions since he was 14 years old and the third generation has now joined into the business to continue on in the industry. Generations Garage is an antique car restoration business that is the fun business he runs primarily with his second oldest son, Jared.
In 2014, the Lord called them into a ministry that helps people with transportation needs. This 501c3 ministry is called, Blest With Wheels. Growing up in South Africa, his dad supported American missionaries, and his heart has always been burdened for helping people in need.
Being deacons together is another way to serve the Lord through serving His people. It's a pleasure to be in a church with a group of loving people that truly care about each other and to serve with a group of men that truly care about the well being of the church body.