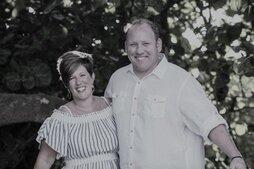 Ian Pruden grew up in Greenville on a Christian University campus where his dad and mom served through teaching and mentoring students for ministry. Soccer was a love for Ian, and he coached at NGU when he finished his undergrad degree in Bible. He married Gretchen and became a youth pastor in WV for a couple of years. He moved to CA to work in business and to minister as an elder with Francis Chan. By God's design and will, he and his wife Gretchen moved back to Greenville, SC in 2010.
They have two beautiful children- Landon and Watson who are in middle school and high school.
Ian presently owns and runs an aviation business, and he loves to fly in his spare time. The Lord is working providentially in his business life with many opportunities coming to him, and he plans to glorify God with all of them.
Ian has a passion for God's people and a desire for the church to be all that God created it to be. He serves as a life group leader, and he loves watching God lead and direct in the lives of His people.